2011 National IPL Conference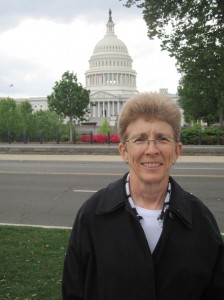 Arizona Interfaith Power & Light co-directors Rev. Doug Bland and Sister Mary Elizabeth Lawrence joined some 70 IPL staff and volunteers from 38 affiliates for the annual national conference in Washington D.C. May 2-4.
Here is Doug's report:

Lobbying: Our focus was on the Clean Air Act and maintaining support for the Environmental Protection
Agency's regulatory powers.  We joined forces with a coalition of groups gathered by EarthJustice, including the National Nurses Association, Physicians for Social Responsibility and the National Council of Churches.  We received affirmations from both Republicans and Democrats for rallying the faith community.  Lucy Murfitt, Legislative Counsel for Energy, Environment and Natural Resources for Senator Jon Kyl said, "It's very unusual and refreshing to have representatives from the faith community lobby us."  Gavi Begtrup, Policy Advisor for Representative Gabrielle Giffords, remembered our visit from last year and said, "I don't want to single anyone out, but we were very impressed to hear about the work of Arizona Interfaith Power and Light. How is it going?"
I was glad to report that AZIPL is growing.  We now have 26 member congregations.  We've held two "Cool Congregations" workshops this year where we trained 23 congregations to calculate household carbon footprints and reduce energy use; helped 25 people participate in the 10-10-10 Global Work Day; hosted the first and second annual Earth Day "Great Solar Cookout"; co-sponsored three "green movie nights"; recruited nine Arizona congregations to participate in the "Preach In" on climate change; lobbied the Arizona Corporation Commission on issues of clean, renewable energy; and co-sponsored two environmental workshops, "Grapping Green" and "Tending Earth's Garden".
We have some strong allies in the offices of Giffords and Grijalva.  Others…not so much.  Again and again we heard that we "need to 'balance' jobs and the economy with human and environmental health."   Our message was that jobs and the economy are certainly important, but the health of the environment and of people should be priorities that belong on a different scale.  Without human and environmental health there won't be jobs or a robust economy.
Several themes emerged from the conference. Comprehensive climate change legislation is completely off the table in Congress. The budget struggle threatens the EPA-along with many federal programs that benefit the environment and the poor. Speaker after speaker emphasized the importance of citizens contacting their elected representatives, and we urge all friends of AZIPL to do just that.
The Clean Air Act has saved thousands of lives and avoided hundreds of thousands of hospitalizations. Eighty percent of our health care costs come from chronic illness. Ensuring the strength of the Clean Air Act will remain a critical issue for us. (Clean Air Act Benefits Exceed Costs More Than 30-to-1)
The conference presentations reminded us of the phenomenal potential of changing America's attitudes about climate change by working through communities of faith. Eleven percent of Americans belong to an environmental organization, but 66 percent are connected with a faith community.
Ed Maibach, director of the Center for Climate Change Communication at George Mason University, gave us a fascinating and important summary of his survey on the public perceptions of climate change.
Maibach found that Americans fall into six categories:
· 13 percent:  the Alarmed (completely sure; activist)
· 28 percent:  the Concerned (very sure; less internalized, modestly involved)
· 24 percent:  the Cautious (not entirely sure, modestly supportive)
· 10 percent:  the Disengaged (know little, less educated, less income; but more supportive than the Cautious about mounting a national response when they learn more)
· 12 percent:  the Doubtful (skeptical, older, not worried, hasn't closed mind completely)
· 12 percent:  the Dismissive (closed mind, believes deniers, unreachable; 60 percent chance that they are Evangelical-quite different from other types)
Maibach's reassuring conclusion:  the majority of America is listening! But only eight percent of the Alarmed and the Concerned think we will solve the climate change problem. Only 1 in 4 of the Alarmed have acted in some way as citizen advocates in the last year. So, IPL's work must activate the Alarmed and Concerned to motivate them to take action. Critical insight: All Americans value saving energy, even the Dismissives. They are all trying to do so. They support public policy that does so. The more we can engage people to adapt right now, the better. Climate Change should be framed as an issue for people and not as an issue that is considered distant such as polar bears and glaciers. IPL connects to people's deep values, health values: Protect the lives of children and grandchildren. Protect God's creation.
Click here for more information and downloads of Maibach's reports.
The concluding session featured an inspiring conversation moderated by Sally Bingham between the "progressive Evangelical" founder of Sojourners, Rev. Jim Wallis and Rev. Gerald Durley, an Atlanta minister active in Civil Rights Movement who serves on the national IPL board. Here are a few quotes from their conversation:
Jim: We were drawn into the civil rights movement by people; we weren't drawn in by strategy or ideas. We were drawn to what people were doing.
Gerald: We were called to a cause. I was compelled to join the movement. It's personal.
Jim: The act of doing empowers people.
Gerald: Movements are effective when people are excited. The environmental movement is boring. It's dull. It's factual. It's scientifically solid. Health issues are at the heart of environmental issues. You are saving a family, you are saving a home. This is environmental justice.
Jim: The difference between an event and a movement is sacrifice. You are here because you got involved personally. Pay attention to your own story. Use it to engage others. Keep your story exciting. Link it to children.
Jim: The Evangelical network cares most about what happens to the poor. Use health, the 7th generation, jobs, rather than the code language of climate change. Find the threads that are congenial with your message. Wealth doesn't trickle down, values do.
Jim: What is enough to create a movement? "Enough" is not a majority. The majority just goes along; you just need them to say okay. You need a critical-mass minority. Create this by education, outreach, grassroots organizing, state efforts. You want to reach "Fred and Sheila" in the majority and have them agree to go along with change.
Jim: I learned from Desmond Tutu that "optimism" is analysis. Hope is a decision you make because of your faith. There is a direct relationship between the hope defined by movements and the outcome. Faith props hope which fuels action which creates change. Hope is believing in spite of the evidence and then watching the evidence change.